Welcome to
Yarra Tri CLUB
Yarra Tri Club is a friendly and welcoming club that is always looking for new members to join. Our aim is to provide a social environment to our members that allows all to feel safe and comfortable at training and social events. We are a LGBT friendly club and promote an accepting and inclusive atmosphere for anyone wishing to join our centrally-based triathlon club.


Through our training provider, the City of Yarra and our dedicated coaches, there are more than 20 sessions per week on offer within the City of Yarra area.
The Yarra Tri Club was formed in 1996 and has grown to become one of Australia's leading triathlon and multisport clubs. The Club offers its members with educational seminars, organised social functions, race day support, and a friendly and supportive training and racing environment. We cater for anyone interested in triathlon and multisport, from beginners to elite athletes of all ages.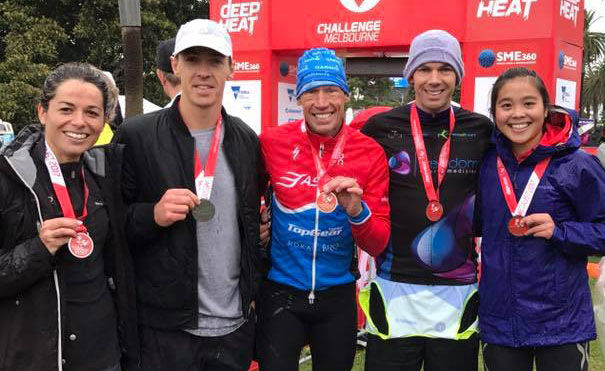 NEWS
Sunset Series Run and BBQ
Wednesday 7th March, 6.50pm
Yarra Tri will be putting on a BBQ along the Yarra for all members and friends post race.
Sunday 18th March, 3pm
Elwood
Come along for a group swim, or just for the yummy food and great company at the end.
YARRA TRI at the MIDSUMMA PRIDE MARCH

Thanks so much to all who came down to represent Yarra TRI at the MIDSUMMA PRIDE March over the weekend. We were a small yet strong team that proudly demonstrated Yarra Tri's open and inclusive stance to racing, training and above all socialising!!
Special thanks to Hugh and Cassandra for organising this great event.
Funky Trunks new Speed Stroke Range
Yarra Tri members can get 20% off Funky Trunks new Speed Stroke range. Just go to the Funky Trunks website.
Sunday 18th March, 3pm
Elwood
Come along for a group swim, or just for the yummy food and great company at the end.
Squad Training -

Wednesday

Night Track Sessions
From

January 10th

the track session will change venue to Richmond Recreation Centre due to track repairs
We will return to the track once the repairs have been completed, probably in April
Starting from the Richmond Centre gives us the option of using the 400m oval across from the Centre, the Tan and the 500m track on Swan St
Christmas Training
There is a change in the training timetable over the Christmas break. Download the Christmas timetable here.
New Squad Timetable begins October 30
Our squad training provider the City of Yarra has a new summer timetable staring from Monday October 30th
As usual at this time of year the Friday long run is replaced by an open water swim at Elwood and the Tuesday Collingwood ergo session becomes a road ride meeting at the Crit Circuit on Kew Blvd.
In addition intermediate swimmers are encourage to attend the Tuesday morning swim squad at Fitzroy pool
Annual General Meeting
The AGM was held at Richmond Poll
on Friday
September
The following people were elected to the committee for the next year
| | |
| --- | --- |
| President | Michael Pratt |
| Treasurer & Vice President | Hugh Allen |
| Secretary | Pierre Gouws |
| Website | Angela Barnet |
| Duathlon | Esther McConnell |
| Open Water Swimming | Fran Johnson |
| Club Championships | Nathan McAvaney |
| Social | Cassandra Coulson |
| New Members | Kathy Bates |
FUNKY TRUNKS New Range
Our sponsors FUNKY TRUNKS have launched a new range
Wild Water
. Check out the hot new looks at
www.funkita.com
.
New Try A Tri Beginner Course
Our next 6 week beginners course starts in October
3 training sessions per week and a mini tri to graduate with
Mid Summer Carnival 2018
For the first time the Yarra Tri Club will be hosting a stall at the Midsumma Carnival on Sunday 14 January 2018 at Alexandra Gardens.
We believe that sport and triathlon should be accepting and inclusive for all members of the community, and we will be sharing our stories and passion for triathlon and multisport with the LGBTIQ community at Midsumma.
We would greatly appreciate members of the Yarra Tri Club to volunteer a short amount of their time to represent our friendly club and talk to people that have any questions about our club and the sport. There's plenty of time to come and help after the race in St Kilda that morning.
Details of the Midsumma Carnival are:
Date: Sunday 14 January 2018
Time: 11:00am to 3:00pm
Location: Alexandra Gardens
Yarra Tri Club will also be participating in the Midsumma Pride March for the first time on Sunday 28 January 2018 in St Kilda.
The Pride March includes organisations, groups and clubs from all backgrounds, including plenty of other sporting clubs, however we could be the first Triathlon club to participate in this great event and we want to be loud and proud to stand out! Remember, you don't need to be LGBTIQ to show your support and get involved.
We encourage as many club members, family and friends to come along and be a part of the march or just show some support from the sidelines to watch the Pride March.
Details of the Midsumma Pride March are:
Date: Sunday 28 January 2018
Start time: 2:00pm
Location: Fitzroy Street, St Kilda
If you would like to help out at the Midsumma Carnival or participate in the Pride March, please contact Hugh Allen at rhallen@bigpond.com