News
Sunset Series Run and BBQ
Wednesday 7th March, 6.50pm
Yarra Tri will be putting on a BBQ along the Yarra for all members and friends post race.
Sunday 18th March, 3pm
Elwood
Come along for a group swim, or just for the yummy food and great company at the end.
YARRA TRI at the MIDSUMMA PRIDE MARCH
Thanks so much to all who came down to represent Yarra TRI at the MIDSUMMA PRIDE March over the weekend. We were a small yet strong team that proudly demonstrated Yarra Tri's open and inclusive stance to racing, training and above all socialising!!
Special thanks to Hugh and Cassandra for organising this great event.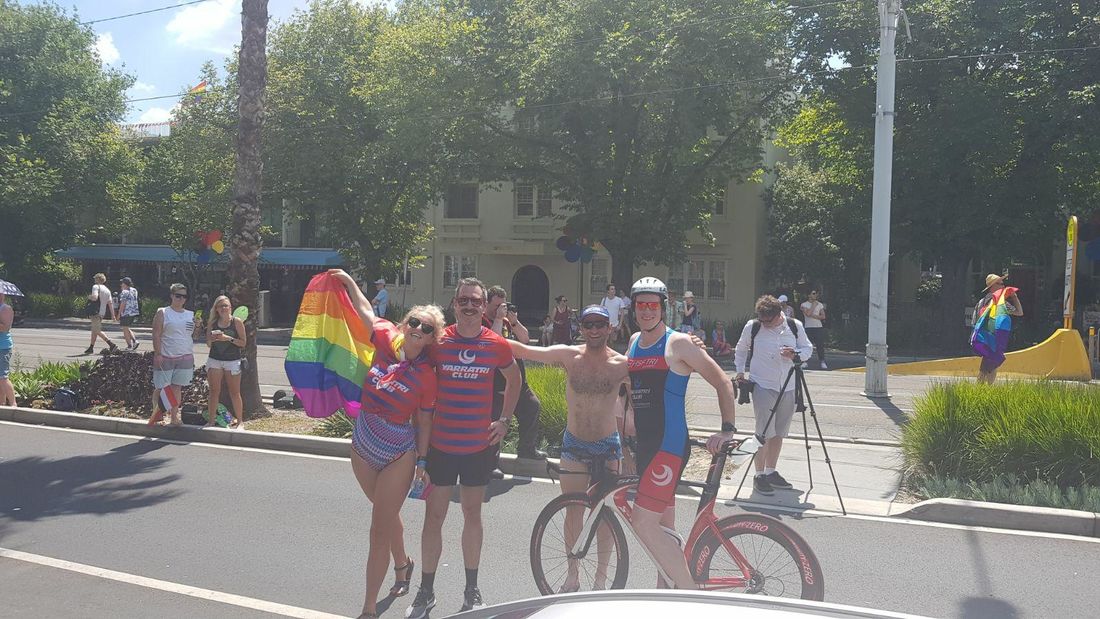 Funky Trunks new Speed Stroke Range
Yarra Tri members can get 20% off Funky Trunks new Speed Sptoke range. Just go to the Funky Trunks

website.
Sunday 18th March, 3pm
Elwood
Come along for a group swim, or just for the yummy food and great company at the end.
Squad Training -

Wednesday

Night Track Sessions
From

January 10th

the track session will change venue to Richmond Recreation Centre due to track repairs
We will return to the track once the repairs have been completed, probably in April
Starting from the Richmond Centre gives us the option of using the 400m oval across from the Centre, the Tan and the 500m track on Swan St
Christmas Training
There is a change in the training timetable over the Christmas break. Download the Christmas timetable here.
The AGM was held at Richmond Poll
on Friday
September
The following people were elected to the committee for the next year
| | |
| --- | --- |
| President | Michael Pratt |
| Treasurer & Vice President | Hugh Allen |
| Secretary | Pierre Gouws |
| Website | Angela Barnet |
| Duathlon | Esther McConnell |
| Open Water Swimming | Fran Johnson |
| Club Championships | Nathan McAvaney |
| Social | Cassandra Coulson |
| New Members | Kathy Bates |
FUNKY TRUNKS New Range
Our sponsors FUNKY TRUNKS have launched a new range
Wild Water
. Check out the hot new looks at
www.funkita.com
.
New Tri Beginner Course
Our next 6 week beginners course starts in October
3 training sessions per week and a mini tri to graduate with
Head Coach Michael Pratt takes 7th at the World Duathlon Championships
A great effort for Head Coach of Yarra Tri MICHAEL PRATT taking 7th at the World Duathlon Championships in Canada.
Congratulations to Esther!!
On Thursday 13th July at 2am in the UK, Esther Jane began her English Channel Crossing challenge. In great conditions Esther smashed her attempt in just over 12 hours!! A massive congratulations from all the YarraTri Club Esther! You are a true Champion!!
YarraTri Duathlon Championships
With less races in the Victorian Duathlon Series this season we have expanded the range of our club championships so more people can take part, whilst still recognising the races with tougher fields
For the 2017 Championships your championships position will be decided by your best three races as usual
They can be from any duathlon including off road from 1st July onwards until 1st October
To recognise stronger fields there will be 50 bonus points per race at the Victorian Duathlon series, National Selection races and World Championships
The 50 point bonus for racing in club uniform will also continue as usual.