The Club's Social Commitee endeavour to give members as many opportunities as possible to get to know your fellow training buddies out of the water and out of lycra.
Throughout the year we have information social gatherings such as post training dinners and breakfasts, and four more formal events including the annual Christmas party and the end of season Club Championships event to celebrate your racing achievements, as well as a mid-winter and pre-season event to keep you socially engaged in the off season.
Triathlon training is a commitment often spent away from family and friends, so loved ones are more than welcome to attend our social events.
Sunset Series Run and BBQ
Wednesday 7th March, 6.50pm
Yarra Tri will be putting on a BBQ along the Yarra for all members and friends post race.
Sunday 18th March, 3pm
Elwood
Come along for a group swim, or just for the yummy food and great company at the end.
YARRA TRI at the MIDSUMMA PRIDE MARCH
Thanks so much to all who came down to represent Yarra TRI at the MIDSUMMA PRIDE March over the weekend. We were a small yet strong team that proudly demonstrated Yarra Tri's open and inclusive stance to racing, training and above all socialising!!
Special thanks to Hugh and Cassandra for organising this great event.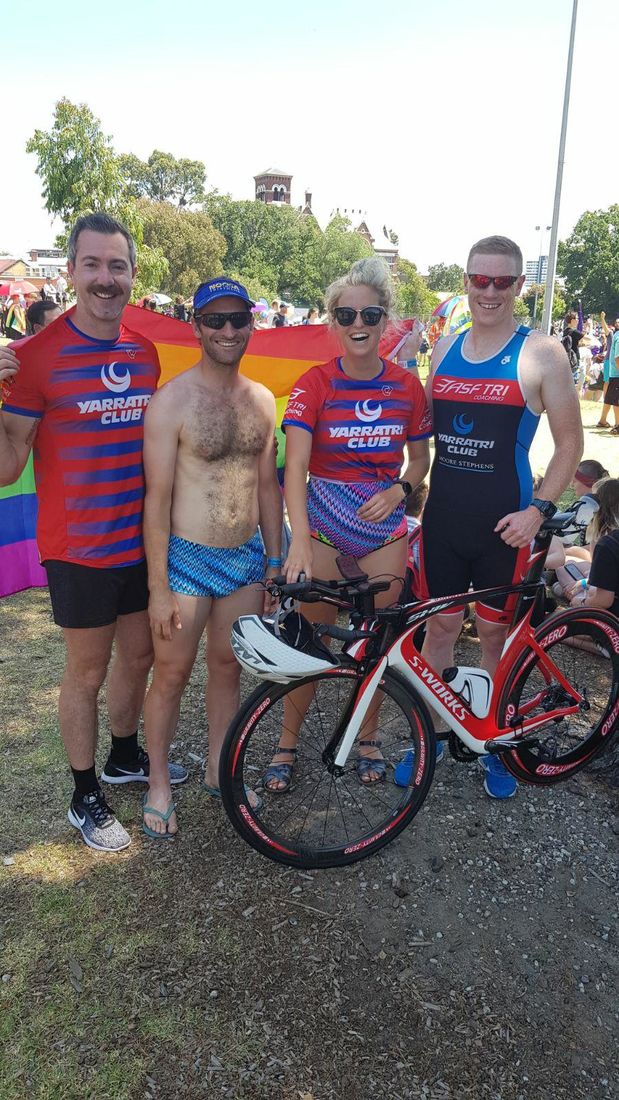 Congratulations the Award Winners of the YarraTri Triathlon Club Championships
In a fantastic night at the Public House in Richmond the Club Champions for Open Water Swimming, Short & Long Course Triathlon were presented with their awards. Click
here
to see the full list of results.
For the first time ever there was a tie in the men's short course award with both Marc Hardy and Michael Pratt obtaining the maximum 5250 points. It was Michael 10th win in this category.
There were also repeat winners in the Open Water Swimming with Fran Johnson taking out her 4th consecutive win and Nigel Fanning his second in a row.
Jo Ryn Tan won her second Short Course Triathlon Championship
in three years.
While new comer Kelly Stevenson won the Long Course Championship and also placed in the short course tri and open water swimming championships. Another new comer Pierre Gouws won the men's Long Course Championship
Thanks to our partners City of Yarra, Total Rush, Verge Sport and Funky Trunks for their support through the season and for the prizes for these Championships.
Thanks to the YarraTri Club committee for putting on a great night especially Ange and Esther.